This is an artificial neural network that extracts axes of symmetry from visual patterns. The input patterns can be plane figures, complicated line drawings or gray-scaled natural images taken by CCD cameras.
The network can extract symmetry axes without being affected by small amount of asymmetry caused by slight deformation, variation in brightness or various kinds of noise. Even if an input pattern has two or more symmetry axes, they all can be extracted.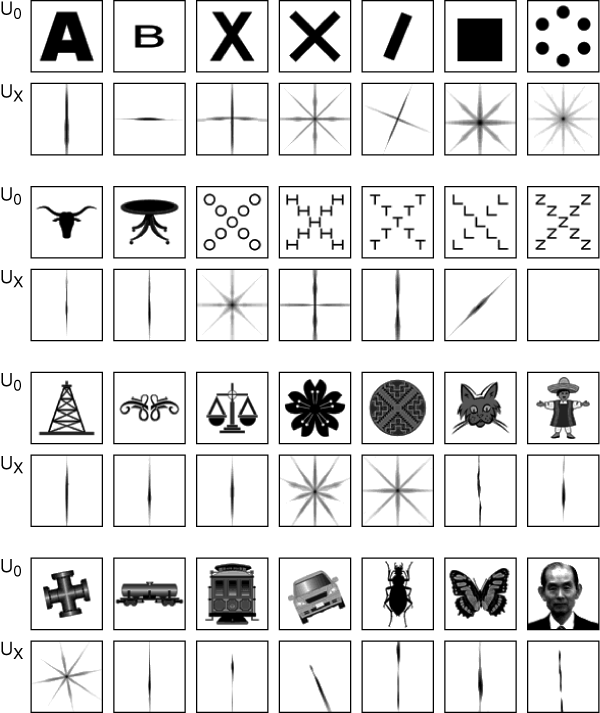 Axes of symmetry extracted from various input patterns.
Symmetry axes are extracted correctly even from gray-scaled images that have complicated textures without being affected by small amount of deformation.
In various kinds of visual information processing, a blurring operation, if appropriately controlled, greatly increase robustness against deformations and various kinds of noise, and reduces computational cost.
Our network checks conditions of symmetry, not directly from the oriented edges, but from a blurred version of them. The use of blur, not only reduces the computational cost greatly, but also largely increases tolerance to deformation of input patterns. It is important to get blurred signals, however, not directly from an input image, but from the oriented edges. Although information of edge locations becomes ambiguous after the blurring operation, most of important features of the original image can still remain stable. If the input image is directly blurred, however, most of the important features in the image will be lost.
The robustness of the neocognitron for visual pattern recognition is aslo obtained by a blurring operation.
Reference
Top of Fukushima | Neocognitron | Occluded pattern | Optic flow | Symmetry |